The Wildcats have already added the second commitment to their 2020/21 recruiting class with the addition of defensive defensemen, Kurt Reger.
Standing 6'1", 190-pounds, Reger comes from San Jose, California and played last season with the Utica Jr. Comets of the USPHL Premier League.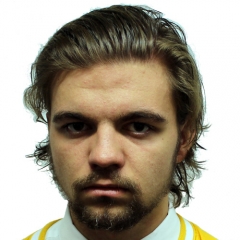 "I picked the U of A for several reasons," said Kurt Reger. "The campus environment and overall academics was what I was looking for, especially with the highly rated business program (Eller College of Management) and I wanted to play for top -ranked ACHA team that has the ability to compete with NCAA DIII caliber of play. Also, Tucson is really close to my home in California. I can't wait to start my college career, I can't think of a better school for me than the U of A."
Reger is a defensive defensemen who plays a real steady game with reliable gaps, battles hard in front of the net and has a very active stick.
"We are excited to add a very reliable player on the back end," said coach Berman. "He already excels at the things we stress with our defensemen - constantly gaping up while having a stick on pucks, taking away time and space. He is someone that brings a real steady game and can be used in a variety of ways, whether it be as a matchup defensemen or a complimentary piece to one of our more active defensemen. "
"To be honest, the best way to describe him is he's like an older version of Hege (Wildcat Defensemen, #3 Chris Hedgecoke) and we were really happy with what Hedge brought this year. I have already been joking with him that he has an older brother he never knew he had coming next year."
| | | | | | | | |
| --- | --- | --- | --- | --- | --- | --- | --- |
| SEASON | LEAGUE | TEAM | GP | G | A | PTS | PIM |
| 2018/19 | NOJHL | Soo Eagles | 16 | 0 | 0 | 0 | 2 |
| 2018/19 | EJHL | Seahawks Hockey | 14 | 0 | 1 | 1 | 8 |
| 2018/19 | SIJHL | Minnesota Iron Range | 25 | 0 | 4 | 4 | 2 |
| 2019/20 | USPHL-PR | Utica Jr. Comets | 42 | 1 | 12 | 13 | 8 |