The Wildcats are very excited to announce the commitment of impact, power-forward, Eddie Slack.
Eddie Slack, standing at 6'3", 195-pounds, comes from Orland Park, IL. Over the past two seasons Slack played Junior A hockey with the Jersey Shore Whalers (USPHL-PR) and the Atlanta Capitals (NA3HL). Last season Slack lead his Whalers team in goals (18), finishing the season with 33 points in 44 games played.
Slack had many NCAA DII and ACHA offers but ultimately chose the University of Arizona as his home for the next 4 years.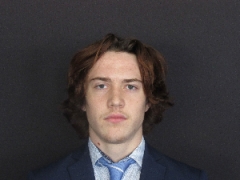 "The University of Arizona separated itself, for me, because of the overall experience," said Eddie Lack. " The program is set up in a way that I believe enables me to grow both as a student and an athlete. The programs attention to detail helped me to see the potential for development in both myself, and the team."
Eddie Slack brings an element of size and speed that all coaches covet, but it's his 200-foot game that impresses coach Berman the most.
"We are incredibly excited to add Eddie to the mix," said coach Berman. "I love the way he drives nets; this is a kid that really understands his game and I don't think we have even scratched the surface of what he is capable of. The more you watch him on film the more you learn to appreciate the intangibles of his game: He never missed a back check, always has his head on a swivel in the defensive zone and has great timing for when to get inside the house and attack the net off the puck. He has a heavy shot and can be used in any situation. We play in one of toughest conferences (WCHL), if not the toughest conference in the ACHA. Having Eddies size and speed will play very well, and we look forward to seeing the kind of instant impact we think he can make."
Stay tuned as the Wildcats continue to reload for the 2022/23 season!
| | | | | | | | |
| --- | --- | --- | --- | --- | --- | --- | --- |
| SEASON | LEAGUE | TEAM | GP | G | A | PTS | PIM |
| 2021/22 | USPHL-PR | Jersey Shore Whalers | 44 | 18 | 15 | 33 | 12 |
| 2220/21 | NA3HL | Atlanta Capitals | 40 | 20 | 18 | 38 | 4 |