The Wildcats have added a third forward to their 2023-24 recruiting class with the addition of forechecking-playmaker, Ari Rossi.
Rossi, standing 6'0", 185-pounds, is a right-handed forward that comes from Santa Rosa, California. He spent the last two seasons with the Lake Tahoe Lakers (USPHL-PR) where he served as team captain and produced 108 points (30 goals, 78 assists) in 76 games played. At the tail end of his last junior season, Ari was sent to the Charlotte Rusch (USPHL-PR) as a deadline pickup for the USPHL National Tournament. This acquisition served well for the Rush, as they made it all the way to the National Championship game, only to fall short to the Northern Cyclones 3-2 in a tightly contested battle. During that stretch, Rossi tallied 5 points (4 goals, 1 assist) in 9 games played, contributing in more ways than on the score sheet, with his gritty style of play.
Like the two prior Wildcat commits (Trystan Swiger and Justin Hughes), Rossi had several strong NCAA options, but ultimately chose the University of Arizona to call home. Rossi had this to say about his commitment to the Wildcats: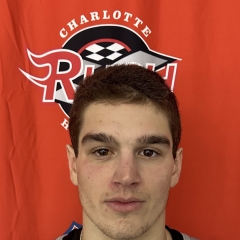 "The University of Arizona is an amazing hockey experience to be a part of," said Ari Rossi. "It's also a great opportunity for me to continue my education, I am excited to get started."
Ari Rossi is a versatile forward who can play wing or center, up and down the lineup, in any role and has the ability to make others around him better. He brings a very high hockey IQ and a heavy forecheck, something coach Berman has clearly made a priority for this year's recruiting class.
"Ari is an absolutely perfect fit, he checks all the boxes for us," said coach Berman. "First and foremost, he's heavy on the puck, which is something we wanted to add to our roster. He wins puck battles and is very competitive - he doesn't like to concede an inch. Beyond that, he is a high-character kid who brings an impressive skill set to go along with his heavy game. He has impressive vision and hockey IQ and is great at creating havoc around the net, particularly at finding loose pucks and finishing with tips and rebounds. I see a bit of Tyler Bertuzzi in his game, which is exactly the kind of player we needed to put around our skilled guys so they can be better at what they do. All the pieces of the puzzle need to fit together for us to be collectively successful, and I think we were lacking some of that last year. It's always exciting to bring in talented, high character players that fit our culture. But when you can bring in those kinds of players and they precisely fit our skill set needs too - it's an absolute home run. Ultimately our results next season will determine if we are right, but we set a plan for this offseason, and we are sticking to it."
The #11 Arizona Wildcats will hit the ice again in September with a large portion of their core players returning. Stay tuned for further recruiting updates as we gear towards what is shaping up to be a highly anticipated 2023-24 season!
| | | | | | | | |
| --- | --- | --- | --- | --- | --- | --- | --- |
| SEASON | LEAGUE | TEAM | GP | G | A | PTS | PIM |
| 2022-23 | USPHL-PR | Charlotte Rush | 9 | 4 | 1 | 5 | 0 |
| 2022-23 | USPHL-PR | Lake Tahoe Lakers | 34 | 11 | 30 | 41 | 159 |
| 2021-22 | USPHL-PR | Lake Tahoe Lakers | 42 | 19 | 48 | 67 | 156 |