The Wildcats are excited to announce their first netminder of the 2023/24 recruiting class with the addition of 6'7" goaltender, Nate Gulsvig.
Gulsvig, standing at 6'7", 205 pounds, comes from Fargo, ND. He spent the prior two junior hockey seasons playing in the USPHL Premier league with the Minnesota Squatch, Hudson Havoc and Steele County Blades. During his time in the USPHL-PR he put up consistently strong numbers, particularly while with a very strong Hudson Havoc team where he produced 0.72 goals against average and a .958 save percentage in 9 games played.
Gulsvig will be the counterpart to what could be a very strong goaltending tandem, joining returning Sophomore Finnish goaltender, Niklas Seppänen. Gulsvig had this to say about his commitment to the Wildcats: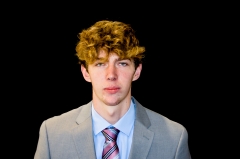 "When considering my options for higher education, it was without a doubt that the University of Arizona stood out as the ultimate choice for me," said Nate Gulsvig. "There were a few key factors that influenced my decision to commit to this exceptional University. First, the University of Arizona is a top-tier institution that provides students with a well-rounded education. Additionally, I have a lot of respect for coach Berman and the great hockey program that he has built. I can't wait to make my way down to the beautiful campus and get to work. From athletics to academics, I am confident that attending UArizona allows me to achieve my personal and professional aspirations. I am very excited to see what the future holds - Bear Down!"
The first thing you notice about Gulsvig is obviously his size, but it is his sneaky athleticism that makes coach Berman so excited.
"We are really pumped to add Nate to our group," said coach Berman. "We like what we currently see on film, but it is what he can become that has us so excited. The sky is the limit for Nate. As the recruiting process evolved, we just kept being really enticed by his potential. The more film we watched the more impressed we became by his athleticism he has for such a big kid. Obviously, he takes up a ton of net with his size and he knows how to use it. Meaning, he doesn't move around too much, mainly because he doesn't have to. He plays a very steady, calm game and smothers pucks very well. As he gets stronger and more explosive, we think he has the athleticism to recover well after the initial save and to close out windows of opportunities in ways other goalies simply can't. You can see it when you turn on his film, the way he uses his weak side leg aggressively to cut down the angle on tight scrambling situations and attack the loose puck. As he gets stronger and continues to improve his edge work, we think that can become a real strength to his game. From our reference calls, he seems like a kid that is willing to put in the work and we can't teach size. Paring him with Sep gives us a solid tandem in the net, which is critical in the ACHA."
Stay tuned as the recruiting season continues to unfold and for other future announcements as the Wildcats return to the TCC at the end of September for a highly anticipated 2023/24 season.
| | | | | | |
| --- | --- | --- | --- | --- | --- |
| SESON | LEAGUE | TEAM | GP | GAA | SAVE% |
| 2022/23 | USPHL-PR | Minnesota Squatch | 16 | 3.20 | .917 |
| 2022/23 | USPHL-PR | Hudson Havoc | 9 | 0.72 | .958 |
| 2021/22 | USPHL-PR | Steele County Blades | 12 | 3.57 | .896 |