The Wildcats have added a critical piece to their defensive core with the addition of elite skating defensemen, Luke Busby!
Busby, standing 5'11," 190-pounds, comes from Eden Prairie, Minnesota as a local standout and is coming to the Wildcats from the Cowichan Valley Capitals (BCHL). Before his time with the Capitals he played for the Lloydminster Bobcats (AJHL) and the Main Nordiques (NAHL).
Busby had this to say about his commitment to the Wildcats: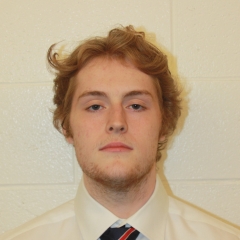 "I'm excited to join a great organization with a great team," said Luke Busby. "I am looing forward to meeting mu new teammates and building towards a National Championship."
Busby is exactly the kind of smooth skating, left-handed defensemen Coach Berman was looking for.
"This is such an important piece to add to our group," said Coach Berman. "Currently, only two of our returning seven defensemen were left-handed. He brings elite skating ability, great gaps, and a ton of experience. He is a hardworking kid that plays a very honest game and should fit in seamlessly with our group. Just watching him on film, he thrives at scanning the play in advance to find the right outlet pass quickly in transition. With the amount of speed and talent we have up front, he only adds to the way we want to play the game. However, beyond his talent, it was his character that sold us. In talking with his dad over the phone you could immediately tell he was raised the right way. So, when you get a player of his caliber that can also boost our culture -it's an absolute home run. We want guys that care more about the person next to them than themselves and he fits that mold. I am excited to see how much he can help us get to the next level."
Stay tuned for more updates throughout the summer as the Wildcats gear up for a highly anticipated season back at the TCC!
| | | | | | | | |
| --- | --- | --- | --- | --- | --- | --- | --- |
| SEASON | LEAGUE | TEAM | GP | G | A | PTS | PIM |
| 2022-23 | BCHL | Cowichan Valley Capitals | 18 | 0 | 3 | 3 | 16 |
| 2021-22 | AJHL | Lloydminster Valley Capitals | 51 | 2 | 1 | 3 | 28 |
| 2020-21 | NAHL | Maine Nordiques | 4 | 0 | 0 | 0 | 0 |